Section 10 - The Bonus Disk
Introversion's little gift to all those people who have managed to convince another person to buy Uplink. If you email them your Worldpay Number or Address that Uplink was shipped to, and that of another person who has bought the game, they will send you one of these little goodies. You can now buy the disks as well for a very low price, and its well worth it if you haven't managed to get on through the old method.

On the CD there are Previous Versions of Uplink, including one that still has 3d graphics! There are loads of pictures, and the music files for the game. There are lots of ideas about Uplink: Online, as well as an Ingame history of Uplink Corp.
Also, there are pictures of the Introversion team, so those of you wondering what the guys look like, you need the bonus disk:)

And finally, the Gamebible. Contained on the bonus disk is Book 2, and how to get book 3, but, surprise surprise, they are encrypted. Both books 2 and 3 have been accessed now, so some help is available on cracking them.

HINTS

Book 2 - You need to use half the information in the world to get into it.
Book 3 - A Classic Encryption Method.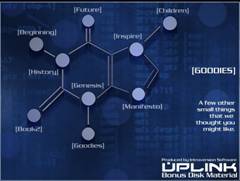 The Bonus disk Menu